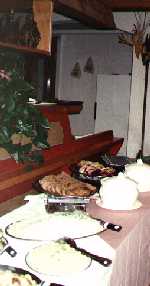 Our Restaurant seats up to 60 people and features mainly Austrian and German specialties, but also some Canadian dishes.

Some of the Entrees from our menu:
Filet Mignon, Veal Loin Steak, Tenderloin Shiskebab,Gulasch,Wienerschnitzel, Jaegerschnitzel, Grillwurst, Live Lobster, Halibut en brochette... Our Appetizers: Shrimp Cocktail, Greek Salad, Smoked Meat with Mixed Salads We also have a Childrenâs Menu, a Wine Menu, lots of Homemade Desserts. (Black Forest Cake, Apple Strudel, Heisse Liebe, Crepes...) and a Breakfast Menu.

All the meals are homemade. Chef Ambros Schnetzer prepares everything from the Beef Bouillion to the vegetables, cuts his own steaks and makes his own schnitzels fresh on the premises, while Mrs. Schnetzer bakes all the cakes and the bread herself.
Our Dining Menu

Appetizers:
Shrimp salad with apples, pineapples and homemade Brandy cocktail sauce
$7.90
Jumbo Shrimp cocktail
$7.80
Smoked Salmon with cream radish and capers
$8.90
Fresh Escargot gratinated with garlic butter
$4.75
Soups:
Gulasch soup
$4.90
French onion soup
$5.50
Homemade Vegetable soup
$3.50
Salads:
Austrian Mountaineer salad
lg. $4.90/sm. $3.90
Mixed salad
lg. $4.90/sm. $3.90
Green salad
lg. $3.50/sm. $2.50
Tomato salad with fresh ground pepper and homemade vinagrette
$5.50
Greek salad with feta cheese and olives
$6.80
Mount Kanley salad plate with ham and swiss cheese
$6.80
House Specialties:
Filet Mignon grilled to perfection
$18.90
Filet Madagascar with creamy peppercorn gravy
$19.90
Filet Rossini with red wine sauce
$20.50
Pork loin Steak with homemade herb butter
$16.50
Swiss Steak - grilled pork Steak gratinated with tomatoes and swiss cheese
$14.50
Pork tenderloin medallions in a fresh mushroom gravy
$15.50
Hungarian beef gulasch
$10.90
Paris schnitzel - escalope grilled in a egg batter
$10.90
Vegetable platter with roesti
$3.50
Mount Hanley pan - beef tenderloin tips with spaetzle fresh mushrooms and
vegetables, prepared and served in a frying pan
$15.90
Austrian Specialties:
Wienerschnitzel - breaded escalope
$10.90
Rahmschnitzel grilled escalope in a creamy fresh mushroom gravy
$12.50
Cordon Bleu- breaded escalope filled with ham and swiss cheese
$11.90
Kraeuterschnitzel - beef in a herb batter
$14.50
Jaegerschnitzel - grilled escalope with fresh sautéed vegetables
$11.90
Above Entrees are served with your choice of spaetzle, boiled,
pan fried or roesti potatoes and vegetables
Kaeseknoepfle - austrian pasta with swiss cheese, fried onions and a green salad
$9.50
Pan fried Haddock in sagebutter with potatoes and vegetables
$12.50
Austrian Dessert Specialties:
Kaiserschmarren with raisins and icing sugar
$6.50
Palatschinken - thin crepes filed with ice cream or
raspberry jam with chocolate sauce and whipped cream
$5.90
Black forest cake
$3.90
Apfel Strudel with ice cream and whipped cream
$3.75
Apfel Strudel in a homemeade sauce
$3.90
Fresh homemade chocolate mousse with fresh fruit
$5.75
Ice cream Specialties:
Keisse Liebe - van. ice cream with hot raspberries
$4.90
Coupe Denmark - van. ice cream with hot chocolate sauce
$4.50
Banana Split with roasted almonds
$4.90
Coupe Melba
$4.75
Fruit Coupe
$4.90
Joghurt Coupe with fresh fruit
$5.25
Mired ice cream
$3.50
Coupe Royal - van., choc., nut ice cream, Baileys and cream
$7.50